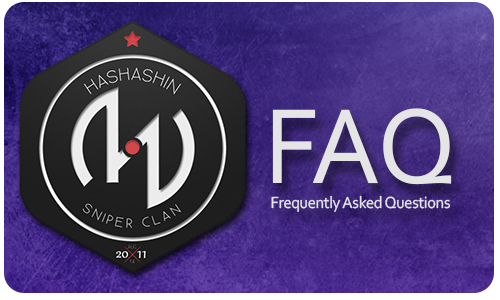 How to join Hash?
Follow this guide: 
http://hash.forumotion.com/t339-guide-how-to-join-hash
Does Hash hacks?
All our members are clean, all them prefer to train, or ask other members to teach something they don't know or are stuck, the following is practice, we have a lot of trainings each week.
How to get a fun/official war?
Follow this guide: 
http://hash.forumotion.com/t341-guide-clan-wars
Who's the Hash leader?
Funnyman is our leader, but in hash all the members have the same voting/opinion power, council and officers are more for high and few serious/stability issues inside the clan.
When Hash was founded?
This clan was started on August 14, 2011 by Kaveh94 and Funnyman.
What are the Hash Council/officers?
Councils: Funnyman - Catharsis - Justunlucky - treeo1234 - FaultLine - BIGPOP
Officers: Fenerbache - Noplay - ThePunish3r - xHeadShot
Clan Artists: BBSS - Chocoboi
How can I add the hash members?
Get the full list here: 
http://hash.forumotion.com/t346-hash-members-directory
Forgot your username?
Ask to a Hash member.
Forgot your password?
http://hash.forumotion.com/profile?mode=sendpassword
Who are the "public forum" admins?
All the hash members are allowed to create topics/reply/moderate/ban.



Posts

: 885


Join date

: 2013-05-24


Age

: 28


Location

: Colombia





Similar topics
---
Permissions in this forum:
You
cannot
reply to topics in this forum